1847 W. 9000 S.
Suite 205
West Jordan, UT 84088
United States
CATEGORIES & HEADINGSdetails >>
The mission of Safety Management Services, Inc. is to safeguard people, processes, and the environment by assisting our clients in maintaining the safety of their operations.

Safety Management Services, Inc. (SMS) is nationally-recognized for providing a variety of risk management services to a wide range of commercial clients and government agencies. SMS is a specialized team of highly qualified engineers and scientists who have experience applying risk management protocol.

SMS also manufactures sensitivity testing equipment for clients who require in-house testing capability for Explosive Testing, In-Process Simulation, or DOT Classification. Available test sensitivity equipment includes ESD, friction, and impact testing machines. All equipment is custom made and can be tailored to customer needs. Also included in the test equipment is an on-site training course which overviews equipment components, features, operation, and safety guidelines. On-going customer support for any questions or problems that may arise is also provided.

Years of experience serving GOCO, GOGO, and LAP facilities; propellants, explosives, pyrotechnics (PEP), and aerospace industries; the chemical processing industry; the oil production and refining industries; the environmental industry; and others, enables SMS to offer a unique perspective in evaluating and communicating risk. SMS is successful in assisting clients with the implementation of risk management systems, which enhance the culture requires for safe operations.

Vendor Showcase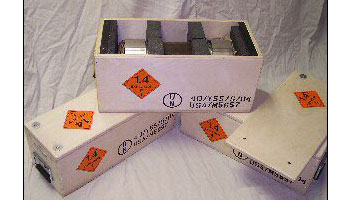 SMS currently offers DOT certified 4-inch x 14-inch and 6-inch x 14-inch seamless steel pipe containers with 3,000-pound end caps for the transportation of small quantities (25 grams) of energetic materials in accordance with special permits (DOT-SP 8451 and DOT-SP 13481). The shipping containers may be purchased with a UN 4D plywood box as the containment package, which has been certified to UN Non-bulk Performance-oriented Packaging (POP) Standards. The containment package is equipped with retracting foam-padded handles and foam supports to support the pipe. Containment packages and shipping container can be purchased as a set or individually. read more