1601 3rd Street South
St. Petersburg, FL 33701-5542
Company Established In
2001
CATEGORIES & HEADINGSdetails >>
Field Forensics, Inc. (FFI), develops and manufactures chemical detection and identification devices for law enforcement, homeland security, and military customers. FFI has fielded several product lines for detection and identification of explosives, narcotics, chemical weapons agents (CWA), toxins, TICs, TIMs other threat-chemicals. Field Kits, Instruments, and equipment for site exploitation and counter-terrorism.

• ELITE™, IDEX™ and ULTRA™ - explosives detection & identification kits
• DABIT™- narcotics detection & identification kits
• Fen-Her™ - fentanyl and heroin detection and identification
• HandyRam II™ - handheld laser spectroscopy for chemical identification - narcotics, explosives, CW, TICs, TIMs databases
• Spot.On.ID™ - unique handheld chemical identification device
• CHAMP™-alpha: a complete set of disposable tests to check threat substances in the field. No batteries. BWAs, CWAs, narcotics, explosives - all in one man-portable kit.

FFI TACTICAL, a division of Field Forensics, offers the latest portable x-ray systems, personal protective equipment, metal detectors for de-mining and UXO clearance, blast protected trash cans, military remote firing systems, sniper-coordination systems, and water abrasive suspension cutting for counter-IED and UXO.
Vendor Showcase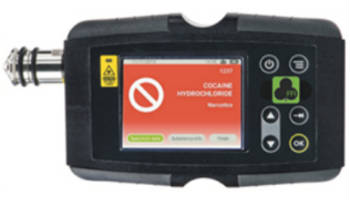 This versatile Raman handheld analyzer identifies illicit narcotics, controlled drugs, explosives materials, pharmaceutical ingredients and a wide range of unknown substances. Thousands of compounds are available in FFI's spectral libraries. It also analyzes and reports the components of mixtures

HandyRam™ II is a compact, handheld, ruggedized Raman spectrometer that is incredibly powerful. It is able to analyze thousands of explosives, narcotics and toxic chemicals in seconds. Laser power is adjustable and use programmable acquisition delay when measuring energetic materials. HandyRam™ II features a durable and waterproof construction yet can also be connected to a PC for detailed spectral analysis, library and record management.

HandyRam™ II has tactile buttons for operation designed for use while wearing gloves. Accessories include: pouch, shoulder strap, USB cable, laser aperture cap with polystyrene target, sample vials, point-and-shoot adapter, vial holder, 90° angle adapter, tripod attachment point, connection kit Ethernet and WIFI,

Two Modes of Operation:

• Point-and-Shoot in which users measure directly or through a plastic bag or glass vial
• Vial Measurement in which the user inserts a sample vial into the attachable vial adapter

Applications Include:

• Customs & Border Protection
• Narcotics Identification
• Counterfeit Pharmaceuticals
• Military Intelligence
• Forensics
• Site Exploitation
• Material Quality Control
• Approvals & Certifications:

EN 60825-1:2007 Class 3B, EN 61000-6-3:2007, AS/NZS CISPR 22, EN 61000-6-1-6-1:2007, EN 61000-4-2, -3, EN 60950–1:2006–05-29 + A1/A2/A11/AC1, EN 60950-22:2006-06-19 + C1/A11/A11C1, EN 61010-1:2010 (Third Edition), Directive 2012/19/EU (WEEE), Directive 2011/65/EU (RoHS), IEC 60529 IP67, MIL-STD-810G 514.6 (vibration), MIL-STD-810G 516.6 (functional shock) read more