PO Box 763
Taylorville, IL 62568
United States of America
CATEGORIES & HEADINGSdetails >>
Combat Gear //
Weapons and Ammunition //
Complete line of Benchrest quality gun cleaning products for rifle, pistol, shotgun. 100% cotton flannel patches, brass core/bronze bristle brushes, one and three piece stainless cleaning rods, jags, rod stops, muzzle guards, bore solvents, and lubricants.


The last full line, family owned, and American made traditional cleaning accessory line left. PRO-SHOT PRODUCTS offers the ULTIMATE in firearms maintenance.

The longevity and accuracy potential of your firearms depends on the quality of care taken in use and in storage. PRO-SHOT PRODUCTS has developed the finest equipment and supplies to achieve the highest expectations of firearms care.

Browse the PRO-SHOT PRODUCTS selection and give the products a try. We are certain you will find that there is simply none better.













Vendor Showcase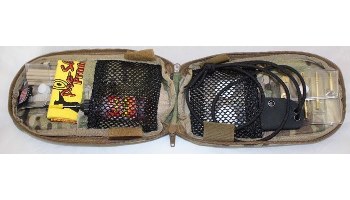 The following kit includes a 100% Berry Compliant Made in USA Quality 500D nylon pouch with easy open Operator Zippers and full lay flat capability in the field use, world famous Pro-Shot Hardware with our Micro-Polished, or Double Coated sectional rods that accept accessories in each section, Locking Swivel Anodized Aluminum Handle, all Brass Accessories, 100% Cotton Flannel Cleaning Patches, and 1 Step CLP that sets the NEW standard in performance and cleaning. Pro-Shot Military cleaning systems provide you with the very best tools to get your rifle clean fast and easy. read more